Let the good times roll for youth facing adversity!
MAX Fitness is thrilled to partner with Big Brothers Big Sisters for "Bowl for Kids Sake". This is the largest annual fundraiser for them and we've set a goal of raising $5000!
The funds raised are crucial as the need for mentoring programs increases. Right now more than 140 kids are waiting to be enrolled for a mentor and the waitlist already has over 60 kids waiting. BBBS is not government funded and they have to raise their entire budget every year which is over $550,000.  Every dollar from this event helps BBBS connect more youth in developmental relationships. It's also an opportunity for us here at MAX to participate in a fun activity for a good cause!
MAX Fitness Event – Saturday, May 13 from 7-9pm at St. Pat's Bowling Alley
If helping kids is right up your alley then join us for our MAX team event! We're looking for 8 teams, 40 people who can commit to raising a minimum of $125 per person and join us at St. Pat's to celebrate your fundraising efforts with a "Party on the Lanes"! Two hours of bowling, food, prizes and a great team building event with the satisfaction of knowing you are helping amazing kids in our community. (can raise money individually or together as a team of 4-6 people)
READY TO GET STARTED?
1)   REGISTER – Get a team(s) together with your friends, family or colleagues (4-6 people per team) and fill out the registration form below.
2)  SETUP ONLINE FUNDRAISING – MAX has setup a team fundraising page to track the progress towards our $5000 goal! Anyone can join this team by creating a page to assist you in your fundraising. The platform has built-in tools to ask for donations via social media, email, or text. The average donation people give is $20, and every dollar can make a BIG IMPACT for local youth. Donations are automatically receipted and 100% of the donation is returned to BBBS! Check out the page to donate or personally fundraise online.
3)  SELL RAFFLE TICKETS – there is an incredible raffle ticket bowlers can sell tickets to elevate fundraising! To get tickets for you and your team contact Mike at MAX for details. Check out the raffle and see the 3 awesome prizes including $5000 in North Atlantic gift cards and air travel for two with Air Canada! 
4)   FUND-RAISE! – set a personal goal and start crushing it by using online fundraising, selling raffle tickets, posting on social media, using email and whatever other creative methods you can use.
5)   WIN PRIZES– everyone likes to win a prize, right? Well this year, for every $50 you raise online you'll get 1 ballot for the chance to win a $500 gift card to the store of your choice!  Raise $100 select a BBBS swag item + 2 online ballots! The BBBS famous PLINKO game will be back for those who raise $500 or more! (based on individual fundraising efforts) to win gift cards.
5) CELEBRATE! – you'll join us at St. Pat's to celebrate your achievements with a Party on the Lanes!
So start the ball rollin' and help STRIKE it BIG for awesome kids!
Can't participate? There are other ways to be involved and show your support
Become an Event Sponsor – contact Kelly  or click for details.
Make a Donation – this can be done online or by calling us at 368-KIDS
Sell or Purchase Raffle Tickets – even if you can't participate in the event, you can purchase tickets and support the MAX team as we strive for $5000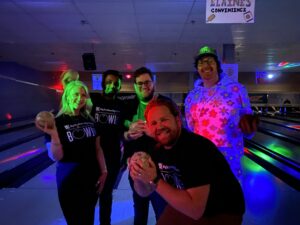 MAX Fitness "Bowl for Kids" Registration
Thank you for registering your team. We ask for a minimum of 4 bowlers per team, a maximum of 6. If you don't have a team and want to participate, talk to Mike Mackey to be assigned to a team (mmackey@yourmax.ca). If you have questions, please contact Mike or Maddy at Big Brothers Big Sisters (709) 368-5437 or maddy.lemaire@bigbrothersbigsisters.ca. Thank you!