BIG News for Volunteers & Families
Get involved in Bowl for Kids Sake! April 30th, May 4th & 5th – Holiday Lanes
It's the biggest fundraising event of our year! It's a fun event for all ages and we hope you'll join us as we work to bring in crucial funds to support our programs.
Why support Bowl for Kids Sake?
Bowl for Kids Sake is vital to the success of our agency. As an agency with no guaranteed funding source, we do have a lot of fundraising initiatives throughout the year because otherwise we wouldn't exist. Right now over 130 kids are waiting to be enrolled and more than 65 kids are enrolled and waiting.  These numbers are the highest we've seen in more than 20 years! And in order to keep matching kids and reduce the waitlist, we need to raise the funds to increase our staff capacity. We added one position last year but we need to add more.
How can you help?
We know everyone is busy. People are tired, burned out and you don't want to think about fundraising, right? But fundraising isn't always about asking someone to "sponsor" or "pledge" to you. Here's a few ways you can help:
Join the 'Big/Little' Bowl
The 'Big/Little' Bowl is 4pm on Sunday, April 30th. There's a reduced fundraising amount for this event of $35 per match. Lots of great prizes to be won for matches that raise over $75 (poster below).  You can bowl at this time with other Bigs and Littles or if you want to enter a team to bowl with family or friends, you can also participate on this day.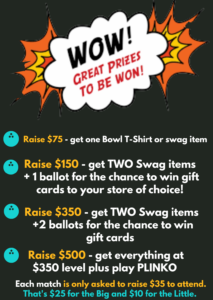 Enter a Team or connect us with a Sponsor
COMMUNITY TEAM (April 30) – Each team bowls for 1 hour and there's a $50 per bowler minimum (4-6 per team). Anyone can participate on this day and just sell the Bowl Raffle tickets to raise the $50 minimum. Easy!
CORPORATE TEAM (May 4-5) – get your office staff, co-workers together for a 'party on the lanes'. 2 hours of bowling, pizza, entertainment and more!  We request a $125 per bowler minimum (4-6 per team) for these team building events. Many companies sponsor a team and others sell the raffle tickets or fundraise internally. Learn more
SPONSOR – click here for our sponsor package. Perhaps you know a business that might get involved.
Sell Bowl Raffle Tickets (poster below)
We could raise up to $100,000 just by selling the tickets. And a shout out to Big Sister Mackenzie who has already sold $840 in tickets! WOW! It's a fabulous ticket with 3 great prizes and an easy sell for most people. You can pick up tickets at our office or even pre-sell through social media, text, email. You collect the money, EFT us the cash and then provide the names and phone #'s for the tickets you sell. We will fill out the tickets for you. We can also try to drop off tickets to you but please know we have a small staff right now so it's dependent on location. We are delivering tickets to the businesses who are bowling and entering teams.
As our volunteers and families, you are our biggest advocates and supporters. The young people you are matched with and care for are the reason we come to work every day. We hope you can help us reduce the waitlist and match all those kids that want to experience the relationships you have.
Thanks to everyone who has already signed up! We can't wait to see you at Holiday Lanes.