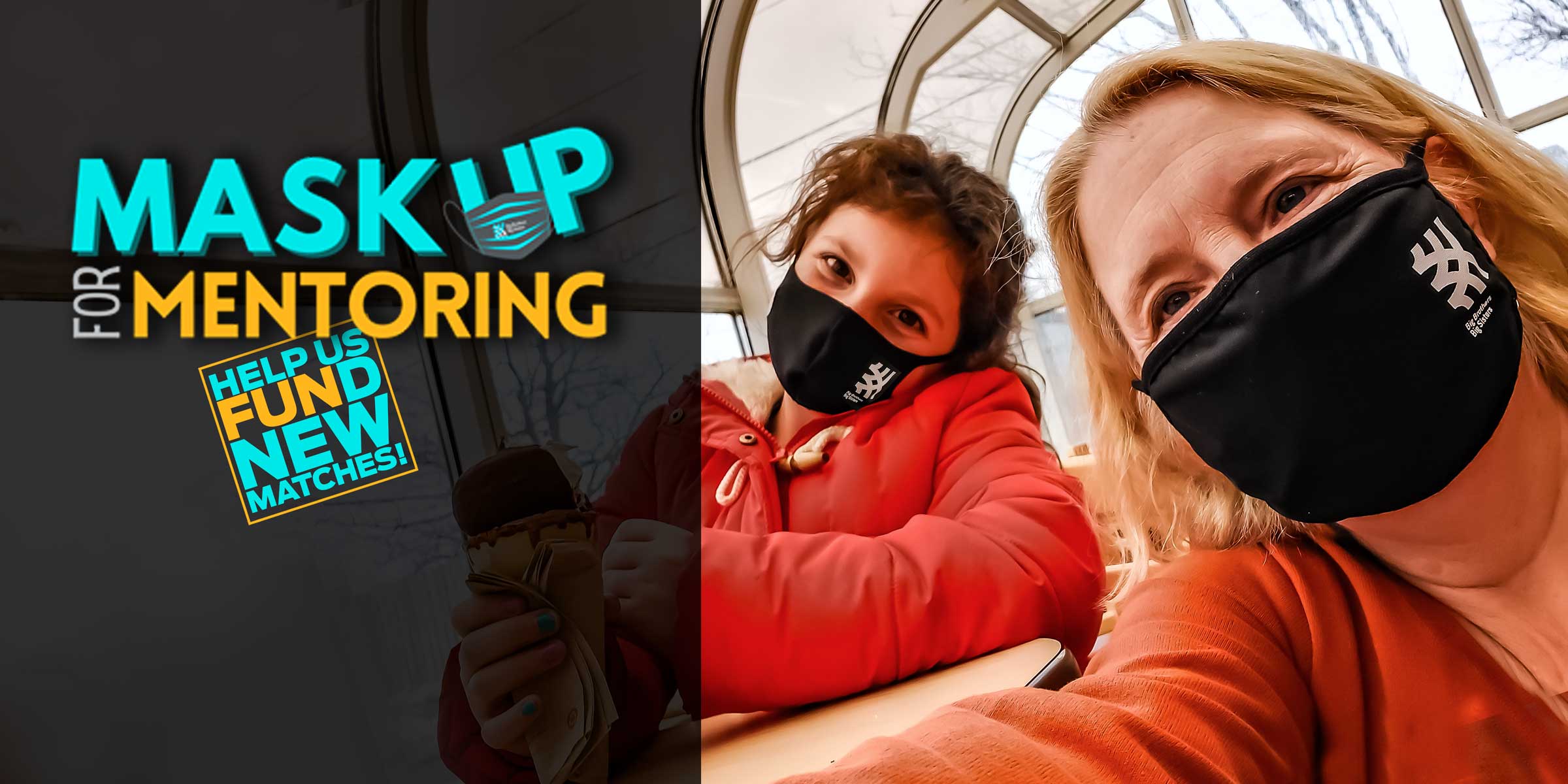 1. Sign Up
your workplace, school, group, friends or family!
2. Think Up
ways your team can raise funds while having fun!
3. Mask Up
on June 10, to make it all happen and help fund a match!
Ready for some fun?
Want to help match more young people with mentors?
MASK UP! with your workplace, school, friends, family or group, and help us raise more money for more matches!
MASK UP for Mentoring is our 2021 community awareness campaign that strives to raise the funds we need to help support our developmental match relationships with our Bigs and Littles.
Usually at this time of year we'd be getting ready to lace up our bowling shoes for our Bowl for Kids event. But for the second year in a row, our signature fundraiser cannot happen since we can't bowl safely. Those funds are critical to our agency and account for about 20% of our annual revenue.
So this year, we've shifted our focus to a new and fun campaign that everyone can participate in safely. Whether you're at home, in school or your workplace and even if you not physically right here in our area, you can continue to support vital mentoring relationships.
On Thursday, June 10, swap out your face mask for a cool BBBS one. Show your community spirit, have fun and make a difference… all with the simple action of wearing a mask and FUN-raising or donating for amazing kids in our community.
Did you know?
$1,200 supports one Big and Little match for a full year!
We're on track to have over 225 Big and Little community matches in 2021. You can help ignite potential for young people now to last them a lifetime, and have some fun doing it! So join us on Thursday, June 10 and MASK UP for Mentoring! Help us reach our goal of $48,000 for 40 Matches!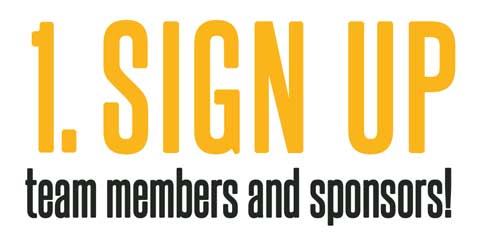 Grow your MASK UP team by inviting your workplace, school, friends and family to participate. Sign up your team on our online fundraising page – set a fundraising goal. Aim for $1200 and become a MATCHMAKER! Challenge others to start their own teams and see who can raise the most! Who doesn't love friendly competition?
No team? No problem! Sign up and go solo or donate to support a match. Anyone can MASK UP for Mentoring.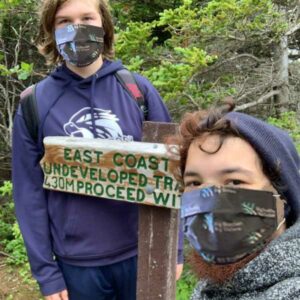 Become a MASK UP Match Sponsor. Connect your brand with our cause and support a match for a full year! Request information.
COVID-19 may make it harder to do some things in person, but it also has made more people than ever comfortable with online get-togethers. If your team can't get together in person, you can still be together virtually as you cook up creative ways to have some fun while raising some much-needed funds to help us ignite potential for more and more young people.
So, hey, start signing up to MASK UP for young people in our community!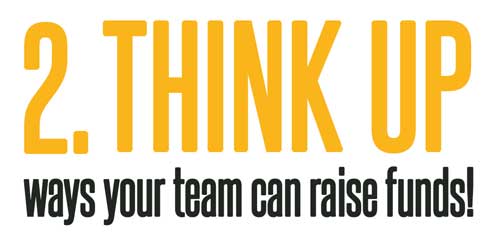 Come up with an idea that can help raise funds and awareness. Think of something that fits your own situation. Ideally, make it something fun that you can do together safely at work or school (even on Zoom) or with your family or friends. Whatever you do, always follow public health guidelines.
FUN-raising possibilities are endless! See our list of suggestions for a few starting ideas, or chat with our team to talk about some options that will be just right for you and your group! And if you don't have a team, no problem! You can raise funds solo or donate and still support the cause!
Use online fundraising – one of the best and easiest ways to gather donations. A few clicks to create a page, post on Facebook and other social platforms, email or text a link right to your donation page. Voila! You'll be surprised at how simple and effective this really is.
Wear masks at work, home, school, even on Zoom for the day! Raise $25 each and get our BBBS branded mask to wear on June 10.
Plan a Door Dash Bake Sale. Or even auction off baked items on Zoom and deliver them.
Play games within your group! How about a Zoom Fails? Co-workers donate every time something happens on a call. For example when a child/pet enters, or you say "you're on mute". We've all had that happen, right? Or maybe it's online games like Bingo?
Organize a day of musical performances or other entertainment! Easy to do virtually.
Have a dinner within your group that follows guidelines, or cook up some fun virtually!
Dress up as well as Mask Up, with pajamas, fun clothes (tie-dye and bell bottoms, anyone?), or crazy hair!
Have a virtual garage, book or puzzle sale. You can even collect recycling and donate that!
Request our Mask Up MasKIT  with social media assets, posters, pledge sheets, and ideas and tips on how get started. We'll make it easy to think up some fun ways to be part of the fun!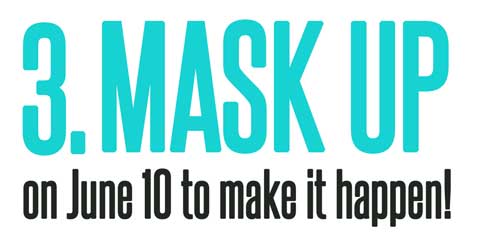 Join us on our Community MASK UP day and show your support of mentoring. On this day, you or your team can live it up with whatever activities you have planned and celebrate your fundraising achievements while wearing your BBBS masks that we'll provide.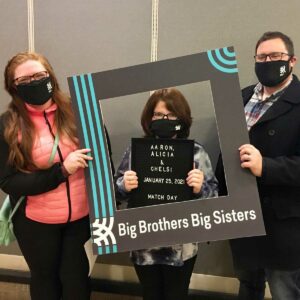 Whether you are working, in school or relaxing at home, post your MASK UP photos on Facebook, Instagram, TikTok, or your favourite social media spots. Don't forget to tag us on social @bbbseasternnl and #MaskUpForMentoring.
Can't Mask Up on June 10? No problem! Participate any day in May or June.
However and whenever you and your team Mask Up, have some fun while spreading awareness and raising funds to help bring more and more young people and mentors together!
Ready to learn more and get started? 
Help Us Fund New Matches Like Lucas and James
Special Thanks to our MASK UP MATCH Sponsors